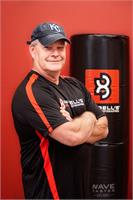 Dan Foote
I am a level-2 kickboxing and strength training instructor.
I initially started at Farrell's because of encouragement from my daughter Anne and a personal desire to never having to say, no I can't to my grandkids. Now, multiple-years later, I have discovered that being an instructor is one of the most personally rewarding things that Ive ever done For me, it's all about making sure that every member I'm in front when on the mic enjoys themselves and is motivated to achieve their fitness goal.
I live in Vadnais Heights with my wife Sue and we are celebrating 38 wonderful years of marriage this year. We have two incredible daughters, both married to wonderful husbands whom together have rewarded us, with four unbelievable grandchildren.
My favorite Kickboxing combo is jab-cross-back-fists and in strength training, it's curls and donkey-kicks. On cheat day, the first thing I reach for is pizza and on other days I just pretend that my go-to blueberries are pizza.
I used to say that my long-term fitness goal was to be the oldest Farrell's instructor, and believe I had achieved that until Sonny McKay joined the team and took that honor away from me.:) So today, after having a brain-bleed/stroke, my personal fitness goal is to to again achieve my previous level of form and fitness.
If you are considering joining Farrell's Stillwater, I am living proof that this program not only changes lives, it saves lives. Thank you Abby and Leslie for allowing me to be a part of the instructor team.