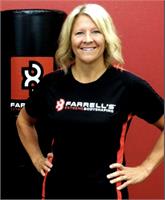 Naashom Buettner
Toward the end of summer in 2014, I was neither fit/healthy nor feeling good about it. Frustrated with myself for getting out of shape (yet again), I needed to find something to help me get back on track. I found out about Farrell's and was drawn to what the program offered: kickboxing and strength training, expectations of attendance, a nutritional component, and before/after data, including pictures (yikes! but, a reality check). That's what it would take! I committed, and it worked. Healthier! Stronger! Feeling great! Speed up to over 3 years later: Still here! I love working out with our Farrell's family!
I teach kickboxing and strength training, with Level 2 Certification in both. You'll also see me here behind the desk, doing some managing.
My other family:) includes my husband, Cory, and 2 teenage boys. I love spending time with them and with friends around Stillwater and on the river when the weather is hot!